Ductless Mini-Split Air Conditioning Systems
Ductless mini-split air conditioners are a great alternative to those clunky, old, inefficient window A/C units. If your window air conditioner isn't getting the job done in keeping you cool during the hottest days of summer, a ductless mini-split A/C might be the right choice for you. Nothing is worse than sitting in a hot and humid home in New England during the summer months.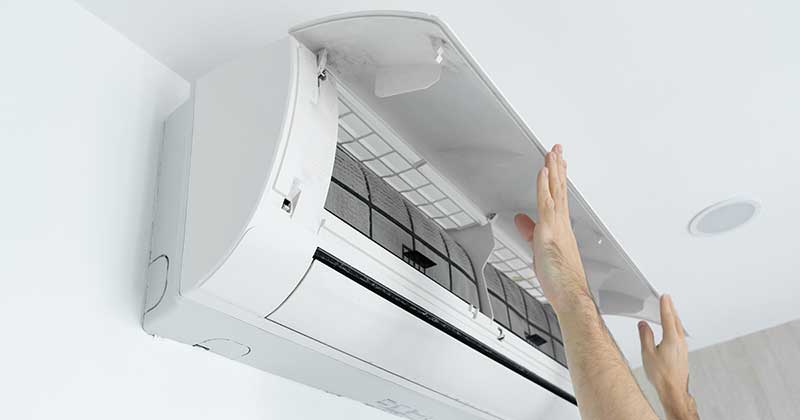 ---
Ductless A/C Installations and Replacements on Cape Cod
If you're thinking about a new A/C installation, but your home doesn't have existing ductwork, there is no need to worry! You've come to the right place. Ductless mini-split air conditioning systems don't require ductwork, and their sleek and efficient design can fit anywhere in your home. These energy-efficient air conditioning systems are composed of an outdoor unit and one or more indoor units. Ductless mini-split A/C systems can cool your entire home at once or select rooms efficiently. Unlike the eyesore of window A/C units, mini-splits are small, sleek systems that are affixed to any wall you choose. At Snow's Fuel, we can help you select the perfect system for your home and install it for you efficiently and affordably. When you're ready for a new install, just be sure to contact us for a quote!
Benefits of Ductless Mini-Split A/Cs
Zoned cooling saves you energy and money
Since no ductwork is required, installation is quick and easy
Benefit from improved indoor air quality with newer equipment
Some systems can double as a supplemental heating source in winter to help offset fuel bills!
Ductless Mini-Split A/C Repair Services
Whether your ductless air conditioning is breaking down or malfunctioning, we can help! If your A/C is blowing hot air, making odd noises, or producing a strange smell, we can repair it and get it up and running in no time! Little problems can turn into big, expensive issues if you don't take care of them when they start to occur. Don't wait for a ductless mini-split repair. Call us for A/C service today.
Ductless Mini-Split A/C
Maintenance and Tune-Ups
Getting regular tune-ups for your air conditioning system is important to do every year, preferably before you crank it on. Annual mini-split tune-ups come with plenty of benefits like maximum efficiency to lower your energy bills, improved air quality, and a reduced risk of midseason breakdowns. Contact us today if it's time for your yearly A/C tune-up.